Popular Searches:
Keep up to date
Sign up today for exclusive offers and incredible experiences you won't want to miss at Queen Elizabeth Olympic Park.
Sign up now
Things to do under £10
Looking for an exciting day out that won't break the bank? Look no further than Queen Elizabeth Olympic Park! The Park offers a treasure trove of affordable activities that cater to every interest. Whether you're a sports enthusiast, nature lover or simply looking for a beautiful place to relax, we have it all. So, grab your picnic blanket, put on your walking shoes, and embark on a budget-friendly adventure in one of London's most iconic parks. 
Enjoy the Park's scenic beauty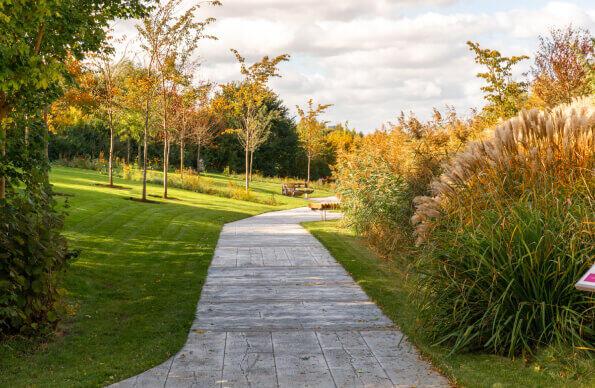 Enjoy the Park's scenic beauty
One of the best things about Queen Elizabeth Olympic Park is its stunning green spaces and scenic views. Take a leisurely stroll or pack a picnic and relax in the picturesque surroundings. Explore the Park's numerous trails and gardens, including the beautiful riverside pathways along the River Lea. In the spring and summer seasons, be sure to check out the London Blossom Garden, a tranquil garden tucked away from the hustle and bustle. 
Get walking tips
Swim at London Aquatics Centre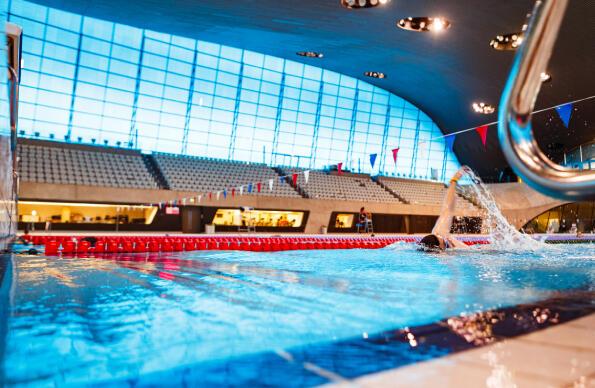 Swim at London Aquatics Centre
Enjoy swimming at London Aquatics Centre, a state-of-the-art facility that hosted swimming, diving, and synchronized swimming events during the London 2012 Olympic and Paralympic Games. The centre offers public swimming pay-as-you-go sessions at affordable rates, allowing you to enjoy a refreshing swim in the same place where Olympic athletes made history. 
Dive in
Try BMX at Lee Valley VeloPark
Try BMX at Lee Valley VeloPark
If you're an adrenaline junkie or a cycling enthusiast, head over to the VeloPark and get your dose of excitement. While most activities at the VeloPark do have fees attached, the "Pay and Ride" BMX sessions offer an opportunity to experience the thrill of racing on two wheels for only £7. Hop on a BMX bike and test your skills on the track!
Ride those bumps and jumps
Did you know?
The BMX track at Lee Valley VeloPark is the same one used by athletes at the 2012 Olympics (albeit it with the heights of burms, bumps and jumps slightly reduced to keep everyone safe)
Visit Timber Lodge or a kiosk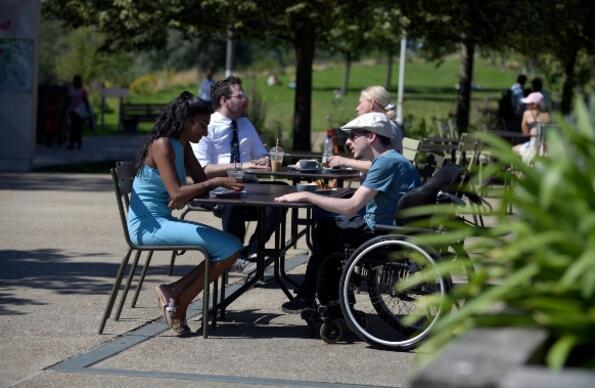 Visit Timber Lodge or a kiosk
When you need a break from exploring, recharge with a cup of coffee at Timber Lodge or one of the conveniently located kiosks found throughout the Park. Timber Lodge is a charming café situated in the heart of the Park, offering a cosy atmosphere to relax and enjoy a hot beverage. The kiosks that are dotted along Tessa Jowell Boulevard provide quick and affordable options for a pick-me-up or a snack on the go. Walking through the Park is a fantastic way to enjoy your time without spending much money before a show at ABBA Voyage or London Stadium! 
Relax with a coffee
Splash into some water activities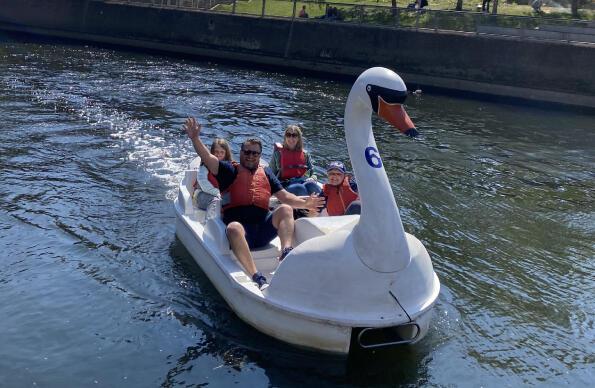 Splash into some water activities
Our water fountains are wonderful entertainment for kids, especially in warmer days when they need cooling off. For more adventure, take to the canal and enjoy a leisurely ride on a swan pedalo. These charming pedal boats are not only fun but also offer a unique perspective of the Park. Soak in the views and rent them out for £9 (and £5 for children)!
Come aboard!