Popular Searches:
Keep up to date
Sign up today for exclusive offers and incredible experiences you won't want to miss at Queen Elizabeth Olympic Park.
Sign up now
London Stadium
As the centrepiece of London 2012 Olympic and Paralympic Games, London Stadium hosted spectacular opening and closing ceremonies and saw some of Britain's most memorable sporting moments take place in front of sell-out crowds.
Following refitting post-Games, London Stadium reopened as a flexible event space ready to house world-class sports, music and culture.
Massive events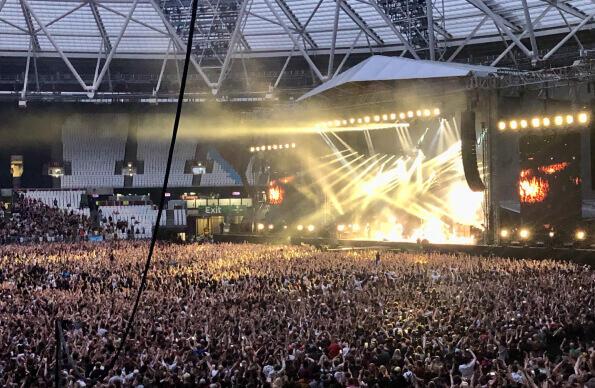 Massive events
Cheer on as goals are scored and records are broken as football, rugby, athletics and many other sports take place year-round. The sound of 'Bubbles' rings out regularly as West Ham United Football Club play their home matches and, as the national competition centre for UK Athletics, there are plenty of opportunities to relive the gold medal winning glory of London 2012. There has even been Major League Baseball played at the London Stadium!
Music lovers will not be left disappointed either as the world's biggest stars lift the roof off the venue. In recent years we've had global superstars like The Weeknd, Red Hot Chili Peppers and Burna Boy all grace the stage for sell-out performances that had to be seen to be believed. With these music events set to continue, keep an eye on our what's on and social media for announcements for tickets.
Discover all London Stadium events
Get behind the scenes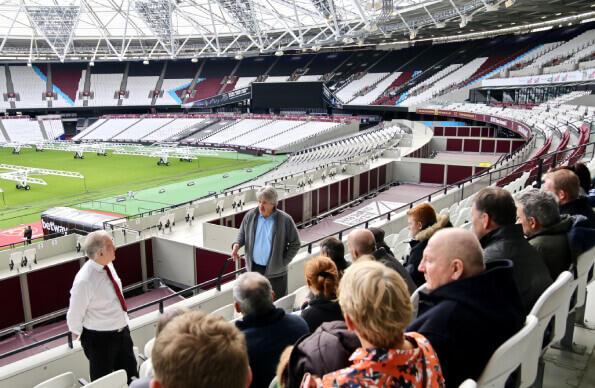 Get behind the scenes
You can also take a Stadium Tour and put yourself in the shoes of your sporting heroes! Take a journey through the players' changing rooms, athletes' warm up track and player tunnel before finishing pitch side at the famous venue. Get the history of the 2012 Games whilst in the very place where so many sporting memories were made! Plus look out for the very special West Ham legends tours where the giants of West Ham's past return to deliver the tours.
Find out more and book tickets
Try out London Marathon Community Track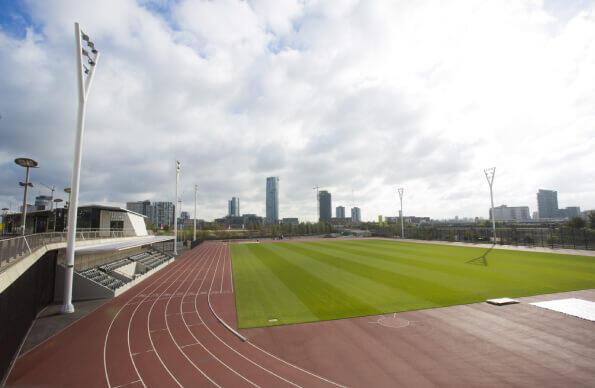 Try out London Marathon Community Track
The London Marathon Community Track opened in 2018, and features a floodlit six-lane 400m athletics track and field event space; a full-sized football pitch; covered spectator stands; changing rooms and a clubroom. As well as providing warm up tracks and event space for major sporting events at London Stadium, it's also open to local residents and the wider community.
The Track is home to the Newham and Essex Beagles, as well as Bobby Moore Academy School, who use it as part of their sports facilities. It also runs open public sessions throughout the week. Find out more information, including session times and prices below.
Learn more
The Stadium's transformation
Delaware North and Freemans Event Partners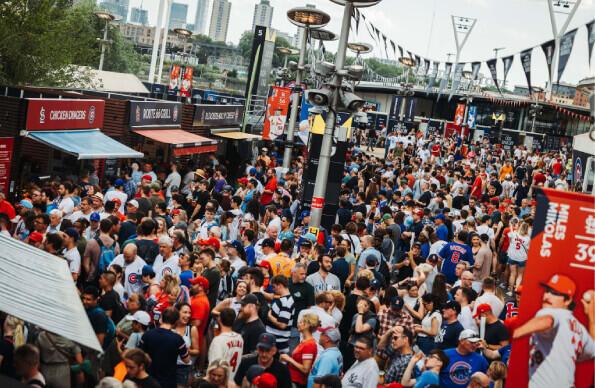 Delaware North and Freemans Event Partners
Delaware North is the public food & beverage partner of London Stadium, serving an appealing variety of matchday food and drink. Delaware North works with Freemans Event Partners to create bespoke menus for the range of events at London Stadium and to provide fast and efficient payment solutions across the concourse. From the MLB London Series and the athletics, to serving football fan favourites at West Ham fixtures, the focus is always on creating an outstanding spectator experience.
Freemans Event Partners is a multi-service event solutions partner, operating at some of the UK & Europe's most iconic stadia and events including the Ryder Cup, the British Grand Prix, Lord's Cricket Ground and Wembley Stadium reaching more than 15 million people, across more than 400 events each year. Services include bespoke food and beverage solutions, end-to-end payment technology, end-to-end logistics, full procurement chain, facilitation of global brand partnerships, and providing practical workforce solutions.
More about London Stadium
Building the Stadium
Building a new Olympic Stadium is a huge proposition, and the opportunity to create a truly iconic landmark for east London was at the heart of London's Olympic bid. For architects Populous, the challenge was to build a venue for 80,000 spectators to watch Olympic and Paralympic events that could easily be adapted for use following the Games.
To ensure that the Stadium could easily be reconfigured for alternative uses after the Games, Populous designed the Stadium to have a PVC roof and temporary tiered seating, as well as outside 'pods' to host food and drink stands and toilets.
Key Facts
For the Games, the Stadium was 'clothed' in almost a kilometre of cloth.
During excavation, 800,000 tonnes of soil were removed – enough to fill the Royal Albert Hall nine times over.
More than 5,250 people worked on construction between 2008 and 2012.
The turf used for the Games was grown in Scunthorpe and fitted over three days.
The Stadium in 2012
Before the London 2012 Games began, the Stadium hosted the National Lottery Olympic Park Run, the British University Athletics Championships and the London Disability Grand Prix, during which three world records were set, as well as the athletics events of the British School Games.
The venue was officially opened on 6 May 2012 by nine year old Niamh Clarke-Willis at the 2,012 hours to go until the official opening ceremony. During the Games it was the home of athletics for both the Olympic and Paralympic Games. It also hosted the spectacular opening and closing ceremonies.
During the incredible four weeks of sport, the venue saw three Olympic records and over 100 Paralympic records broken.
Transforming the Stadium
Following the Games, the London Stadium went through a major transformation project to convert it into a year-round multi-use arena capable of delivering world-class sporting and cultural events.
Work included the removal of the original roof and light paddles and installation of a new permanent roof, the largest of its kind in the world. The new roof covers every seat in the venue, improving the acoustics and spectator experience. An innovative retractable seating system was also installed to allow fans to get close to the pitch for football and rugby. Other works included installing catering facilities, toilets, turnstiles and a new community running track.
Transformation works began in 2013 following the London Anniversary Games, which were held at the Stadium. Work was paused in 2015 so that the Stadium could host the Great Newham London Run, the London Anniversary Games, a Barbarians v Samoa rugby union fixture, five matches of the Rugby World Cup 2015, an England v New Zealand Rugby League International and the Race of Champions motorsport event.
Key Facts
The new roof measures 45,000m2 and is 84m at its deepest point.
There are 5,423 pieces of steel in the roof, weighing 3,900 tonnes.
The 14 new floodlight paddles weigh 45 tonnes each and house more than 540 lamps.
There are 16 executive boxes and 3,600 corporate hospitality seats.
There are 995 toilets, 90 new turnstiles and 35 catering outlets.
5,000 people worked 2 million hours to complete the transformation.
The Stadium meets UEFA Category 4 classification and is a fully compliant IAAF Category 1 athletics facility.
E20 Stadium LLP
Find out more
Get all the information about London Stadium including travel advice and ticket booking on their website
Visit their website