Popular Searches:
Keep up to date
Sign up today for exclusive offers and incredible experiences you won't want to miss at Queen Elizabeth Olympic Park.
Sign up now
Visitor and resident information
Queen Elizabeth Olympic Park is open every day. Here, you can catch up on all the latest information to help make your day at the Park as smooth as possible. Find out more about updates on opening times for our different activities and venues, as well as key details surrounding construction work that may impact your travel.
Park facilities
Information Point
The Information Point is located in the Pavilion at International Quarter London (9 Endeavor Square, London E20 1JN) and open between 11am - 4pm, Monday - Sunday. 
Boat tours and swan pedalos
The boat tours and swan pedalos operations have now finished for the season. Scheduled trips will now resume in Spring 2024.
Fountains
All Park fountains have been turned off for the winter and will re-open in spring 2024.
WiFi available across Queen Elizabeth Olympic Park
Visitors have access to free WiFi across the Park, including many of its venues. To sign into the Park's free WiFi, simply select it from the list of available networks. You will then be asked to provide your name and email address as part of a short registration process.
Paths and roads
Paths and roads
London Stadium event day road closures
London Stadium event day road closures:
Road closures will be in place for West Ham home games and will affect the following: Westfield Avenue, Marshgate Lane to Sidings Street (Junction with Bassett Lane to Junction of Sidings Street), Sidings Street (Marshgate Lane – Carpenters Road east), Montfichet Road and Pool Street:  The closures will be in place approximately 3 hours before kick-off. 
Visit our What's On page for more information about Park activities. 
Riverside paths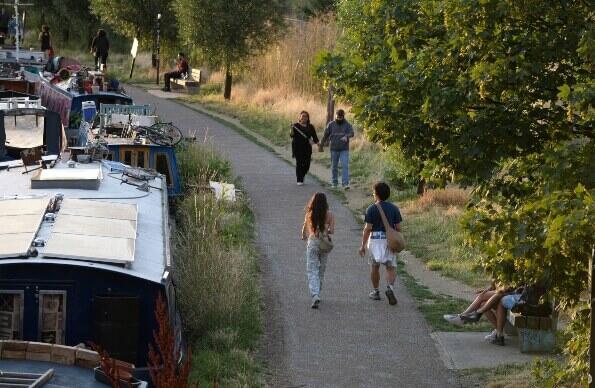 Riverside paths
Following periods of heavy rain, the paths closest to the River Lea, especially in the north of the Park, can be prone to flooding. This is a natural part of the Park's role as a flood basin for the housing in the Lea Valley. Please be careful near the river when water levels are high or paths are icy, and follow signage or instructions from staff if paths are closed. Never attempt to walk across frozen water.
Photography and filming on the Park
Crowd filming and photography may take place on the Park and in its venues if authorised in advance by LLDC, both on event days and while the Park is in general use. These images may then be used to promote the individual event, or Queen Elizabeth Olympic Park and its venues.  
Filming and photography at the Park is authorised by the Events Team who should be contacted at least ten days in advance at Events@londonlegacy.co.uk 
Drones 
General use of drones and remote-controlled flying models is not permitted on any area of Queen Elizabeth Olympic Park. Only commercial drone activity is permitted and requires a 1 month notice period to assess and turn around applications. Applications can be made to film@londonlegacy.co.uk and must conform to CAA standards for Unmanned Aerial Vehicle flights together with the Air Navigation Order 2009. Drones are remote controlled aeroplanes, helicopters or other flying models often fitted with a camera. 
Enjoying the shared space at the Park
Visitors to the Park are very welcome to picnic in many of the area's wonderful green spaces. The Park and its venues are often very busy with a huge programme of events and activities, so it's always good to check this page and our events listing for details of what's happening when and where and for details of closures of outdoor spaces, paths, roads or venues. Please take your litter home with you.  Please note that there are limited toilet facilities available at the Park.  
Here are some simple guidelines:   
No gazebos, tents, large parasols or umbrellas or any other structures.  You are not allowed to stake equipment into the Park without a permit.  
If hosting a charity picnic, you will need permission. You will not be allowed to collect or solicit for money or display branding or banners without formal approval. 
Likewise, no corporate or commercial advertising, banners or flyering is permitted. If this is a staff picnic you are not allowed to display any corporate banners. 
No cooking, barbeques or fires. 
You may bring alcoholic drinks to the Park, but they should only be for you or your guests. You may not sell alcohol on the Park and please drink responsibly; we do not tolerate alcohol related anti-social behaviour. 
Please use plastic. Broken glass is a hazard to public and wildlife alike. 
Smoking – We don't restrict smoking on the Park, but please be mindful of others enjoyment of the open spaces and take your rubbish with you. 
Playing ball games – please play sports activities in the more open spaces. 
Playing music – please be considerate of other Park users. 
Balloons - If you are bringing balloons into the Park, please do not release them as they are a hazard to wildlife. Mass balloon releases are not permitted in the Park. 
Dog walking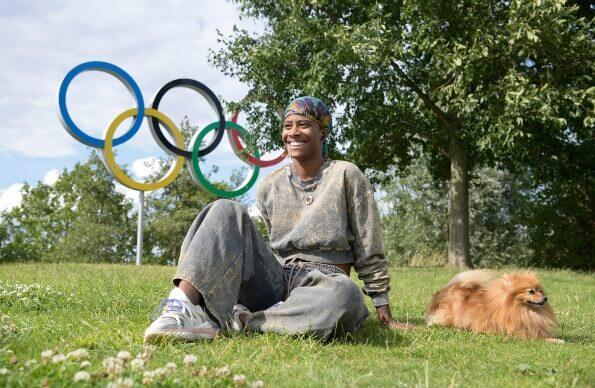 Dog walking
For the comfort of all Park users, we ask that Hopkins' Field in the north of the Park is used for exercising dogs off lead. Dogs are not permitted off lead in the areas of the Park that fall within the London Borough of Newham. 
Construction works
Santander cycle docking stations on Stratford Walk
This docking station has been removed and will be reinstated later in the year. The nearest docking stations are on Montfichet Road near Stratford Underground Station and at the Podium Cafe on the Park. 
East Bank Stratford Waterfront construction works
From 11th September Stratford Waterfront public realm is open. There are new pedestrian routes from Stratford Walk, Aquatics Walk, East Bank Walk and Tallow Bridge.
Alternative pedestrian and cycle routes through the Park are signposted, and for road users there are diversion signs in place.   
Visitors coming from western approaches such as Hackney Wick should travel along Marshgate Terrace past the London Stadium to reach the south of the Park.   
Access from the east is on Montfichet Road and Pool Street, and along Sidings Street at the rear of the London Stadium to reach the north of the Park and Hackney. 
The London Aquatics Centre and its car park will remain open throughout the construction period. 
BUS 339 follows a route through the Park along Sidings Street and Marshgate Lane past the two Bobby Moore Academy schools, and leaving the Park at White Post Lane. It will continue to stop at the London Aquatics Centre bus stop on Pool Street. Coaches dropping off passengers should also use this stop, but waiting will not be possible; there are official coach parks on Waterden Road and Westfield Avenue
East Wick Phase II
Works have started on Hopkins Fields for the new homes to be built in the north of the Park alongside Waterden Road. Construction is due to complete in 2025. Phase 3 hoarding is expected to be erected in October 2023.
Stratford Walk
The area between Haugen and the London Aquatics Centre will be resurfaced this year. Please follow diversion signs to reach your destination. The lift is being replaced outside the London Aquatics Centre during these works, and will be closed from the end of July; please follow diversion signs for step free access across Thornton Bridge.
Sweetwater
Monier Bridge: Work on the bridge is now complete and it is now fully open to cyclists and pedestrians. The bridge will not open to buses until Sweetwater Place has been completed in November 2023.