Popular Searches:
Keep up to date
Sign up today for exclusive offers and incredible experiences you won't want to miss at Queen Elizabeth Olympic Park.
Sign up now
London Aquatics Centre
Charity Challenges Community Events Corporate Hospitality and Away Days Sports
About
A breath-taking venue with first-class style and hospitality 
This stunning building designed by the late Dame Zaha Hadid offers conventional space such as meeting rooms close to the main foyer, as well as exclusive events within the world-famous main pool auditorium.  
Guests can enjoy welcome refreshments around the concourse level looking down into the competition pools, and where else can offer fine dining poolside with synchronised swimming after dinner entertainment?  
The pools themselves are flexible, with movable booms and floors to create additional floorspace. With a seating capacity of 2,000, the London Aquatics Centre allows you to host an event within the world's greatest swimming pool complex. Let your guests share in the thrill of this innovative and unique building.  
Venue details
Meeting Rooms
Meeting Room - up to 18 people boardroom style 

Creche Room - up to 50 people theatre style 
Competition Pool
50m x 10 lanes – (50m x 25m x 3m) 

1 moveable floor – (12.5m x 25m) 

2 moveable booms – (one submersible and one lateral) 

Pool starting blocks 
Training Pool
50m x 8 lanes – (50m x 21m x 2m) 

2 moveable floors – (25m x 21m each) 

2 moveable booms – (one submersible and one lateral) 
Diving Facilities
25m x 21m x 5m diving pool 

Single moving floor that spans the whole pool 

Dive platforms at 1m, 3m, 5m, 7.5m and 10m 

1 pair of 1m springboards 

2 pairs of 3m springboards 
Dryland training facility 
Additional features and facilities
Scoreboard 

Timing system and touchpads 

Spectator seating - Permanent fixed seating for 2,500 
Changing rooms - Changing accommodation for up to 300 users 
Get in touch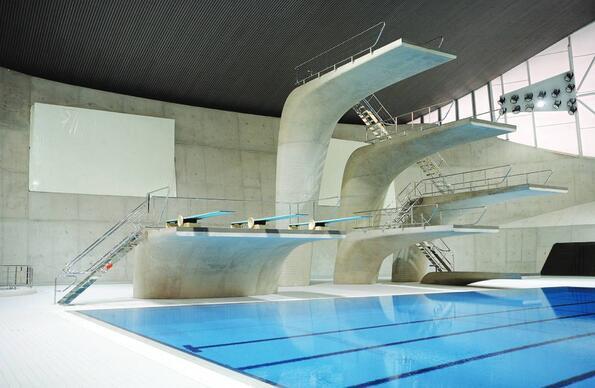 Get in touch
Click through to start planning your next event at London Aquatics Centre or for more information on this venue.
Learn more