Popular Searches:
Keep up to date
Sign up today for exclusive offers and incredible experiences you won't want to miss at Queen Elizabeth Olympic Park.
Sign up now
Experience al fresco dining
When the sun is shining, there's no better place to be in London than Queen Elizabeth Olympic Park. Discover some of the enticing options for al fresco dining which sit amidst the idyllic landscapes and iconic architecture you can find on the Park. Whether you want a quick coffee or an evening-long cocktail experience, the Park offers an abundance of choices. Let's explore some of the captivating venues where you can indulge in delightful outdoor dining experiences!
Hackney Bridge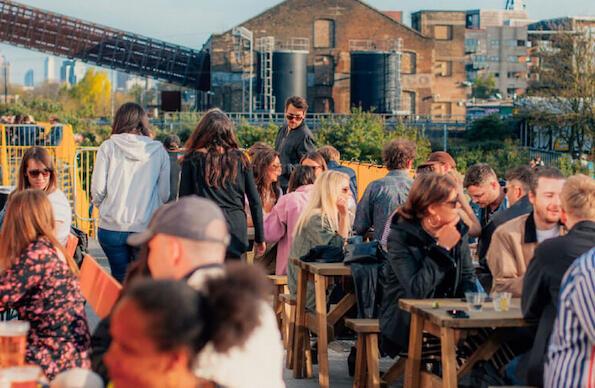 Hackney Bridge
For a unique al fresco dining experience with a vibrant atmosphere, head to Hackney Bridge. A perfect spot to hang out before a game at Copper Box Arena or an event at London Stadium, this relaxed hub hosts an array of street food vendors and live entertainment. Explore a variety of international flavours as you enjoy the lively ambiance along the canal. Take a seat at the outdoor seating area, bask in the energetic atmosphere, and savour the diverse culinary offerings. 
A feast of flavours
Barge East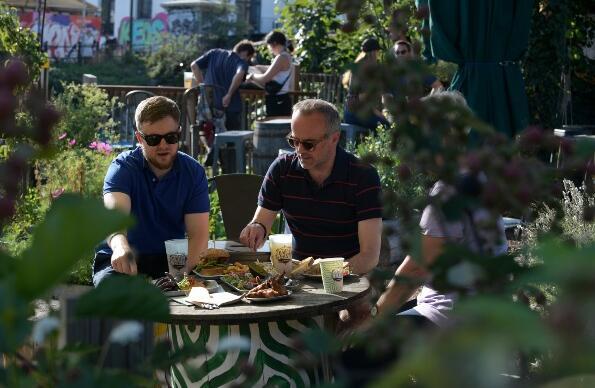 Barge East
Nestled beside the beautifully restored Dutch barge which houses the main restaurant, Barge East's gardens offer a serene oasis in the heart of the Park. Lush greenery and carefully cultivated herbs create a vibrant and inviting ambiance where guests can enjoy award-winning food. The Garden's thoughtful design and charming aesthetics contribute to the overall enchanting experience at Barge East, making it an ideal destination for those seeking a memorable dining experience amidst natural beauty. 
Savour nature's delights
An award winner
Did we mention that Barge East has been recognised in the 2023 Awards with 2 Rosettes for 'culinary excellence'. Definitely one not to be missed!
The Last Drop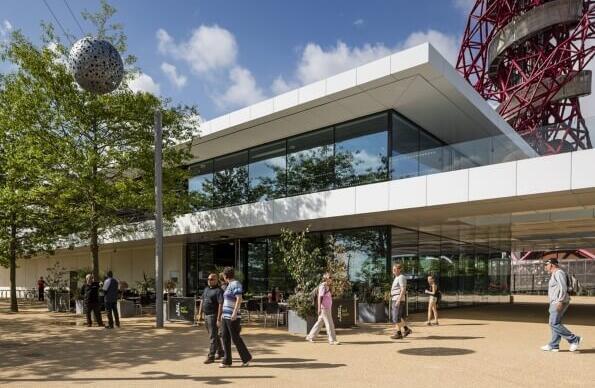 The Last Drop
Situated next to the iconic ArcelorMittal Orbit, The Last Drop is a casual and familiar venue. Before making the climb to enjoy the panoramic views and ride the slide, sit outside this café and enjoy a tempting variety of options. The menu features light breakfast and lunch choices, crafted using locally sourced, seasonal ingredients whenever possible. Whether you prefer a steaming cup of coffee or a pint from their well-stocked bar, take in the chilled environment with views of the London Aquatics Centre, London Stadium, and the picturesque waterways.
Dining with a view
The Stratford Hotel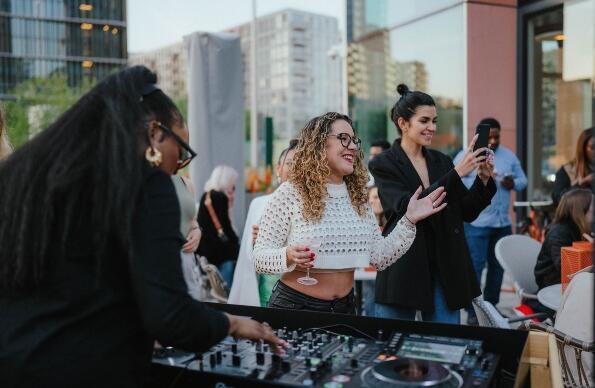 The Stratford Hotel
The Stratford Hotel is a classy option that elevates dining to new heights – literally and figuratively! Step into Allegra, the hotel's high rooftop restaurant boasting panoramic views and an atmosphere to match. Indulge in culinary delights created by their talented chefs, showcasing a fusion of British and Mediterranean flavours with locally sourced, seasonal ingredients. Whether it's a leisurely brunch or an elegant dinner, immerse yourself in the sophisticated ambiance. 
Discover culinary delights