Popular Searches:
Keep up to date
Sign up today for exclusive offers and incredible experiences you won't want to miss at Queen Elizabeth Olympic Park.
Sign up now
Experience a cultural revolution
Art and culture have continued to be an important part of the Park's story with a legacy of events, immersive experiences, and commissions working with the local creative community and world-class artists.
The Park is home to a unique collection of artworks, nestled between inspiring architecture, instilling a sense of local pride and cultural ambition through world-class art. Curated specially to be experienced in the landscape, the 29 artworks rival many of the works showcased in galleries across London. Some are large and striking while others are hidden gems, but they are all inspired by the community, history and visitors from near and far. Follow the Art on the Park Trail and discover them all!
Throughout the year, huge cultural events take place on-site, such as the annual Great Get Together, which brings together entertainers, artists and cuisines in a celebration of the local community. London Stadium continues to host international superstars to perform on their tours, drawing in crowds from all over London and beyond! ABBA Voyage too has become a phenomenon, using world-class technology to propel classic disco tunes into a new realm. 
East Bank
East Bank
Soon, our cultural legacy will be further enhanced with the delivery of East Bank, a unique collaboration between cultural institutions, world leading universities and the people of the Olympic boroughs. The UK's newest cultural quarter is made up of BBC Music Studios, Sadler's Wells East, UAL's London College of Fashion, UCL (University College London) and V&A East. 
Read more about East Bank
Waterfront art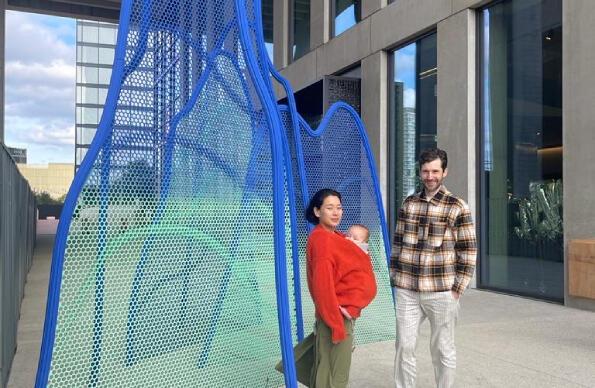 Waterfront art
Plus look out for new artwork on the waterfront space in front of the East Bank buildings. The first permanent piece of art to arrive is:
AA Murakami 'In Mountains Shadow', 2023
Situated between the London College of Fashion and the V&A building.
Wind shaped the landscape of east London. Heavy industry settled here, taking advantage of the eastward winds pushing toxic fumes to the outskirts, sparing other parts of the city from heavier pollution. Today, much of the industry has left, but the winds persist.
To manage strong currents between V&A East Museum and London College of Fashion, AA Murakami designed two overlapping sets of mesh screens. Their dramatic mountain-shaped contours and pigmentation take inspiration from Chinese landscape painting. This draws a connection to the V&A's own collections, where Chinese landscape art has long been carefully conserved and studied.
Find out more
We recommend... The Line
The Line is a free public art walk between Queen Elizabeth Olympic Park and The O2, following the waterways and the line of the Greenwich Meridian. Featuring an evolving programme of art installations, projects and events, The Line illuminates an inspiring landscape where everyone can explore art, nature and heritage for free.
Find out more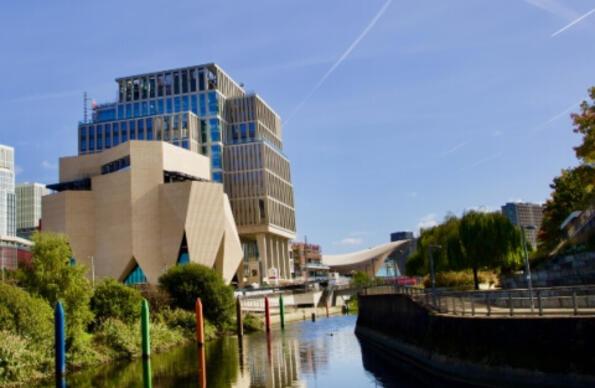 The UK's newest cultural quarter
East Bank is the UK's newest cultural quarter at the heart of Queen Elizabeth Olympic Park. Opening from autumn 2023, this is the place where everything happens – entertainment, inspiration and discovery.
Find out more